Weekly Planner June 6-12: What's Happening in Music, Arts & Life | Culture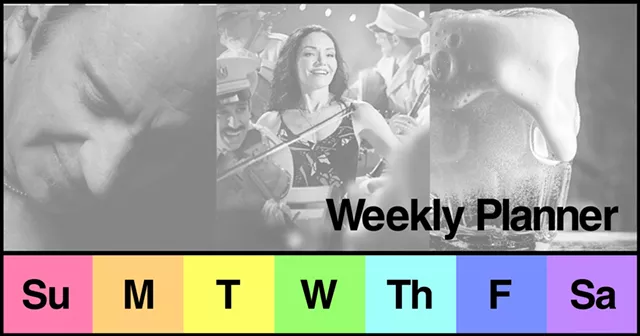 Special cocktails, beer and a velvet Elvis for your crib. It's a very promising week, indeed. Do you want more ? Find the complete CITY calendar here.
Rochester cocktails awakening
Various times
Twenty-three sites
More than 60 events across 23 venues are going full steam ahead for the ninth Rochester Cocktail Revival, which runs through June 12. That night, Redd serves up spritz variations (this one's free) at 5:30 p.m., while Cure at the Public Market serves bar snacks and classic cocktails, plus bespoke bourbon drinks from the distillery. City's Black Button (this one is $30) at 6 p.m. Swan Dive and Cheshire board later in the evening. The week-long celebration wraps up Sunday with brunch: hip-hop and tequila at The Revelry, cocktails from Buffalo's Tommyrotter Distillery at the vegetarian Owl House, and another for the road at Cheshire and Radio Social. All that, and trivia and silent disco too. To date, the event has raised $120,000 for Cancer Support Community Rochester.
—JEFF SPEVAK
"The Group Visit"
7:30 p.m.
Auditorium Theater
If you're looking for a musical punctuated by raucous cheers and catchy vocals, look elsewhere. But if you want an honest, seductive, and moving adult musical, "The Band's Visit" is for you. Winner of 10 Tony Awards, including "Best Musical", the show is based on the 2007 film of the same name and depicts a touring Egyptian band stranded in a small village in the Israeli desert for a single night. The story is hopelessly romantic and confirms one of his most memorable sayings that lands like a heartbreak: "Nothing is so beautiful as something you don't expect." The show runs from June 7-12. Tickets range from $38 to $88.
—DAVID ANDREATTA
Brian Lindsay Band CD release party
6 p.m.
Records Archive, 33 1/3 Rockwood St.
Brian Lindsay from Rochester has been sitting to these songs for a few years, waiting for the pandemic to pass. OK, pretty close. Now is the time to unleash that rock music from the heartland of America that you will associate with Bruce Springsteen and Bob Seger. "Revival" is Lindsay's fourth studio album. When Lindsay sings, "Tonight when the sun goes down, we're gonna paint this town, paint a masterpiece and then we'll burn it down," it's time to put the firefighters on standby.
—JEFF SPEVAK
Art & Treasures Sale
5 p.m.
Memorial Art Gallery, 900 University Avenue.
We all love a good secondhand sale, and this annual event is specifically for those who appreciate art and other items of beauty. You can rank your place by bringing home antiques, artwork, original art, jewelry, china, pottery, china, silver, crystal, ware household items, coffee table art books and small pieces of furniture, all donated in support of the Memorial Art Gallery. The sale begins with a preview night from 5-7 p.m. on June 9 (tickets are $15 and must be purchased in advance), followed by free sale days from 11 a.m.-5 p.m. on June 10 and 11. June, and 11 a.m. to 2 p.m. on June 12.
—REBECCA RAFERTY
Emo Night with Cut Me Up Genny!
8:30 p.m.
Photo City Music Hall, 543 Atlantic Ave.
Nostalgia is a strange thing. If you're not careful, you could find yourself stepping out of the life you've built and straight into the nearest hot topic. I'm guilty of being nostalgic once in a while. If the sun is shining perfectly and I hear an old Fleet Foxes song that I loved in high school, you might catch a tear rolling from my eye. But Emo Night is something completely different. I hope you haven't thrown away all your plaid clothes, neon eyeliner and those Tripp pants with the chains (even though Gen Z has brought it all back into fashion). Come On, You Deserve It: Gather all your friends and prepare to feel like you're about to "Ring the bell with a 'Haven't you ever heard of closing that fucking door?'
—JACOB WALSH
Rochester Real Ale Show
6 p.m.
south corner
After a two-year hiatus due to that damn virus, the Rochester Real Beer Expo is back for 2022. The event doesn't need much explanation. You pay the $50 ticket price — $10 for designated drivers, $70 for VIP early admission — and get access to a stretch of Gregory Street lined with some of the best craft brewers in New York and beyond. There is also music and food trucks.
— JEREMY MOLD
Garage sale days at the Public Market
7 a.m.
Rochester Public Market, 280 North Union St.
There are bargains to be had in everyone's basement, and they surface every Sunday at this time of year in the great purge that is Public Market Garage Sale Days. From collectibles to clothing, furniture to trinkets, artwork to jewelry, the deals are eclectic, inexpensive, and might even inspire you to spring clean. You can sell your old treasures by registering to participate anytime through October.
—DAVID ANDREATTA