Music-maker finds his rhythm at the College of Arts and Architecture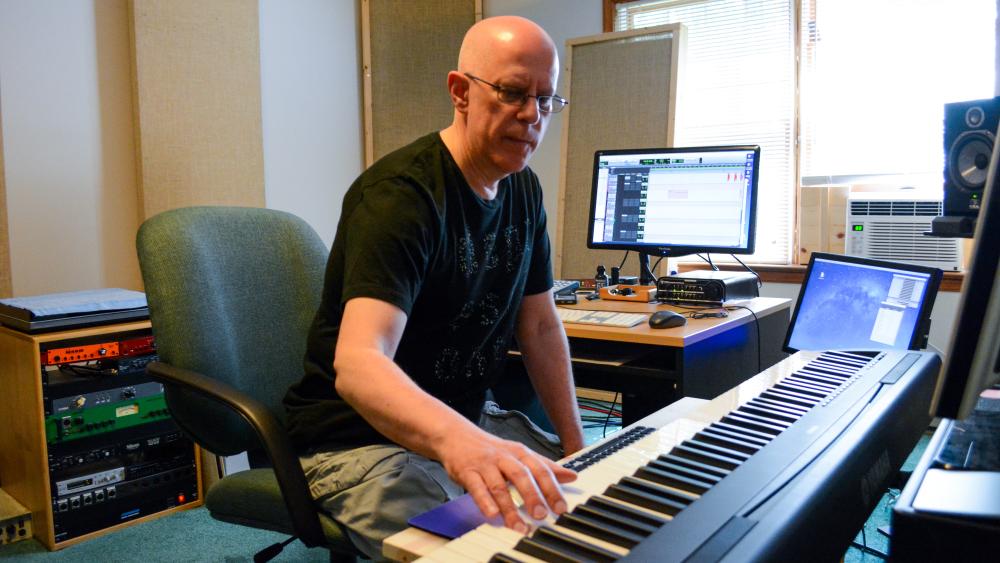 UNIVERSITY PARK, PA – It may have been Bob Klotz's mother who took him to an Alice Cooper concert when he was 13 that inspired him to become a musician, but Klotz's musical interest has took shape even earlier on his grandparents' porch.
"I have these distinct memories of my brother playing Hawaiian steel guitar on their porch and me playing rhythm guitar when I was 7 years old. The Beatles were my main inspiration for wanting to play guitar, "Klotz explained. "I think I had something that was naturally there, but my grandfather encouraged it."
Klotz, an information technology consultant for the College of Arts and Architecture, spends about 20 hours a week writing and recording music in his home studio, and credits his work at a creative college to the keep inspired. Klotz, who has an electrical engineering degree from Lafayette College and worked as a freelance sound engineer for 15 years, began writing and recording his own music after graduating from college. When he started working at Penn State in 2008, he found more time to work on his own music as well as to record and collaborate with people within the college.
In December 2013, Klotz released a five-song EP, "Of the Ivy," with former student Rachel Dungan ('12 BA, music) on vocals. He was recently a sound engineer for Face age, a multimedia installation created from guided intergenerational encounters documented using digital recordings by Andrew Belser, Penn State Laureate, director of the Arts and Design Research Incubator and professor of drama.
"Being surrounded by creative people nourishes me because I feel like I am part of this creative community, even as a staff member. That's why I want to work at this college rather than another, "Klotz said.
"Isbe Amare", the title of Klotz's current recording project, consists of unique pieces on which he plays and records all instruments. He also designed the cover. Dungan, whom Klotz explains "has this ability to capture and deliver the essence of my strange lyrics without thinking they are strange", came back to sing on the first two versions of "Isbe Amare". Klotz's "weird" lyrics speak of connection or disconnection, metaphors and contemporary issues, sometimes even translated into other languages. His upcoming single on nuclear war, "Strangeness and Charm, Second Part", is in French and builds on his interest in the music of Serge Gainsbourg. He also recently released "Your Majesty" and is working on two songs about the lives of tragic film actresses.
"I think film scores are one of my biggest influences, composers like Riz Ortolani and John Barry," Klotz admitted. "When I was 5, my grandfather gave me a record player and a stack of old 45s. I remember listening to all of the 'Hatari!' soundtrack of Nat King Cole and the Harmonicats! I now realize that these sounds still have a major influence on what I do.
As you might expect, Klotz's songs don't fit any particular genre. Its ability to play multiple instruments can also create challenges when choosing a sound. He admits that he sometimes works the instrument at hand in the moment to find inspiration. Although Klotz's writing projects are mostly solo, he enjoys sharing his work and exchanging ideas with his friends and colleagues in Arts and Architecture.
"My music allows me to have a common way of conversing with the people of the college. Whether I'm talking to a sculptor, painter, actor or dancer, our mental approach to our craft is similar, "Klotz noted. "Our tools and methods of expression are different, but we are all trying to communicate something from within ourselves."
Listen to the first release of Klotz's "Isbe Amare", "Your Majesty":