Haken Audio's EaganMatrix Module Eurorack Synthesizer Now Available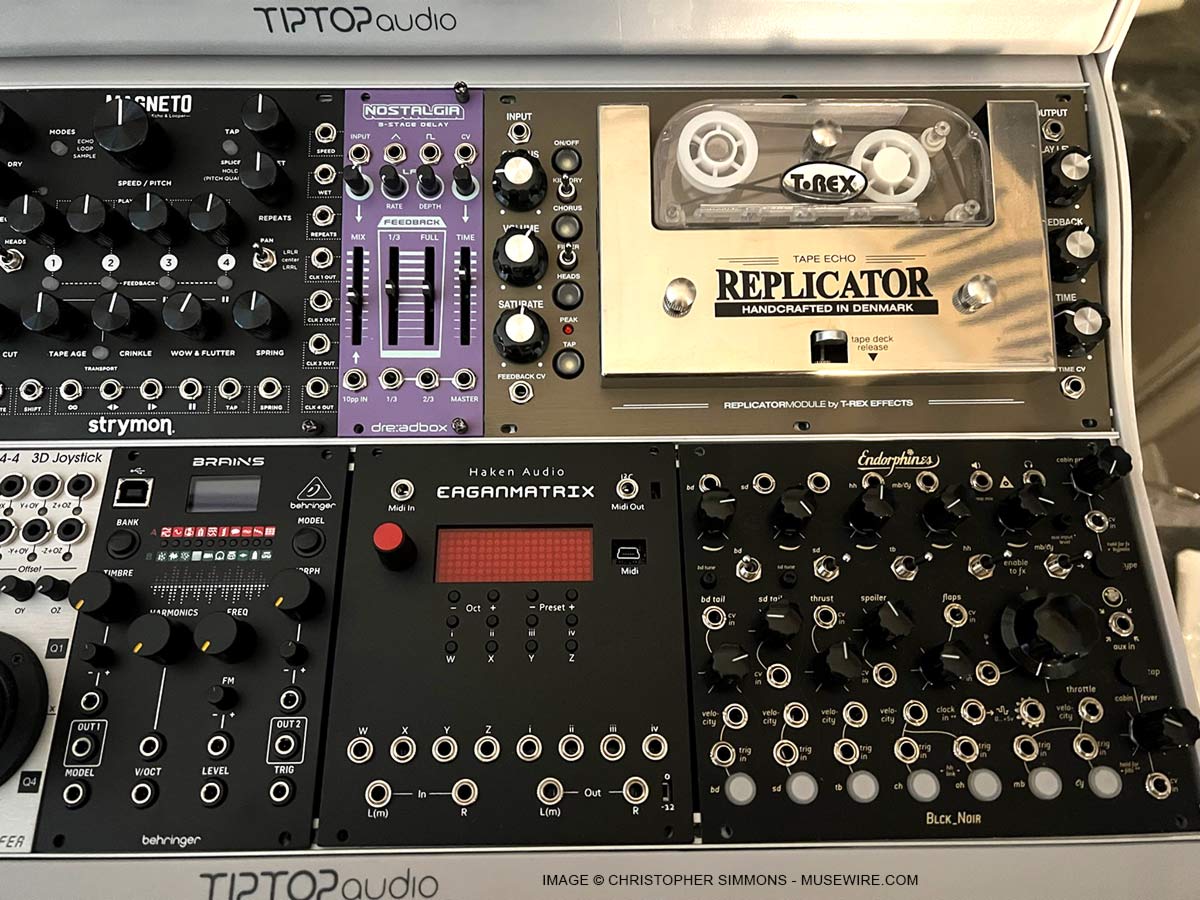 /MUSEWIRE – Music Industry Newswire/ – Musical instrument innovator, Lippold Haken, inventor of the Continuum Fingerboard and its various child incarnations, this week announced his latest product, the Haken Audio EaganMatrix Module, a hardware synthesizer in the eurorack started shipping. The EaganMatrix is ​​a modular digital synthesizer invented by Edmund Eagan, using a DSP engine designed by Lippold Haken.
As a long-time customer and early adopter of the original Continuum Key (before the days of the built-in synthesizer engine), I pre-ordered the EaganMatrix module when it previewed at Superbooth. Since I started building a large custom eurorack setup, the timing couldn't have been more perfect. I received my unit today (March 5, 2022).
This is the same internal EaganMatrix sound technology found in the Continuum Fingerboard Keyboard, ContinuuMini and Osmose Keyboard of Expressive E. The EaganMatrix allows the user to finely shape their musical sound by digitally connecting audio and control modules via a patch matrix. The EaganMatrix module contains its own world of sophisticated digital modular patching, ready to interact with your other Eurorack modules to achieve musical results never before possible.
Haken Audio describes the device as follows: "The EaganMatrix sound technology, originally created for the gesture-sensitive Continuum, is now available in a Eurorack module. The EaganMatrix module will quickly become an essential component of your modular sound design and your sound composition.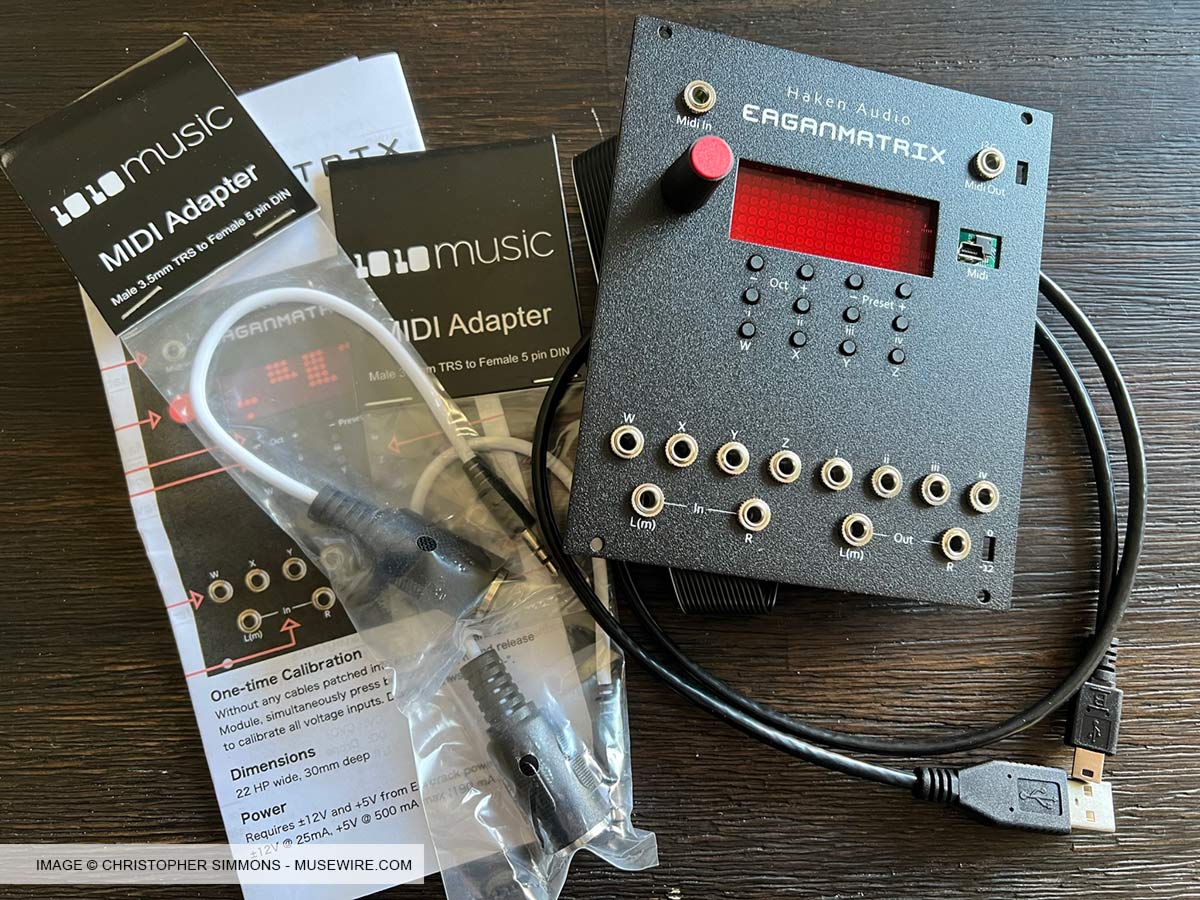 CHARACTERISTICS:
The EaganMatrix module is a complete EaganMatrix sound engine for Eurorack, and can be controlled by control voltages and/or MIDI. This versatile module can act as a sound source, sound processor, CV source (via connection to an external control voltage converter), Midi source, or a customizable combination of all these capabilities.
The EaganMatrix module provides a truly versatile framework for studio and live performance. Flexibility is key, due to its audio inputs and outputs, built-in CV inputs, external CV outputs (via Control Voltage Converter) and robust MPE and MPE+ Midi implementation.
A single EaganMatrix preset can yield completely different sonic results, depending on how it is integrated into a particular Eurorack ecosystem. Hundreds of system presets are included with the EaganMatrix module. Additionally, an external cross-platform (Mac and PC) Haken editor can be connected to modify and customize the provided EaganMatrix system presets, or create new presets from scratch.
Haken Audio's EaganMatrix module offers:
Polyphony: Nominal 1, Maximum 8
Direct CV note control is limited to 1 voice at a time, but higher polyphony prevents voice stealing when EaganMatrix presets have long decays, and higher polyphony is often useful for Midi input.

4 CV inputs per note: W, X, Y, Z

Gate (W) — Triggers at 1 V, with a maximum range of -10 V to +10 V

Pitch (X) — 1V per octave, with programmable offset for Middle C; useful input voltages are a subset of -10V to +10V (depends on the programmable offset selected)

Timbre (Y) — Function depends on EaganMatrix preset; the voltage range is normally 0V to 5V, but -5V to +5V can be useful when combined with a programmable offset

Intensity (Z) — normally 0V to 5V, but -5V to +5V can be useful when combined with a programmable offset

4 global CV inputs: i, ii, iii, iv
Functionality depends on the EaganMatrix preset; these CVs affect all voice (notes of WXYZ and Midday); each global CV is normally 0V to 5V, but -5V to +5V can be useful when combined with a programmable offset

2 analog audio inputs: left and right, or mono

2 analog audio outputs: left and right, or sum mono
-12dB switch selects between Eurorack level and line level

MIDI over USB
Enables bi-directional MPE and MPE+ connection to other devices; allows connection to Haken Editor for editing and archiving EaganMatrix presets (USB-A cable included with purchase)

Universal 3.5mm Midi input (Type A, Type B and TS)
Allows connection to other Midi devices without the need for a computer or USB (5 pin DIN Midi In adapter included with purchase)

Type B 3.5mm Midi Output
Allows connection to other Midi devices without the need for a computer or USB (adapter to 5-pin Midi DIN output included with purchase)

i2c port for communication with the Control voltage converter
(a switch selects between 3.5mm Midi Out functionality and i2c functionality)

12 switches, 1 rotary and LED matrix
A menu system allows stand-alone operation without the need for a computer, and provides monitoring of played notes and CV input levels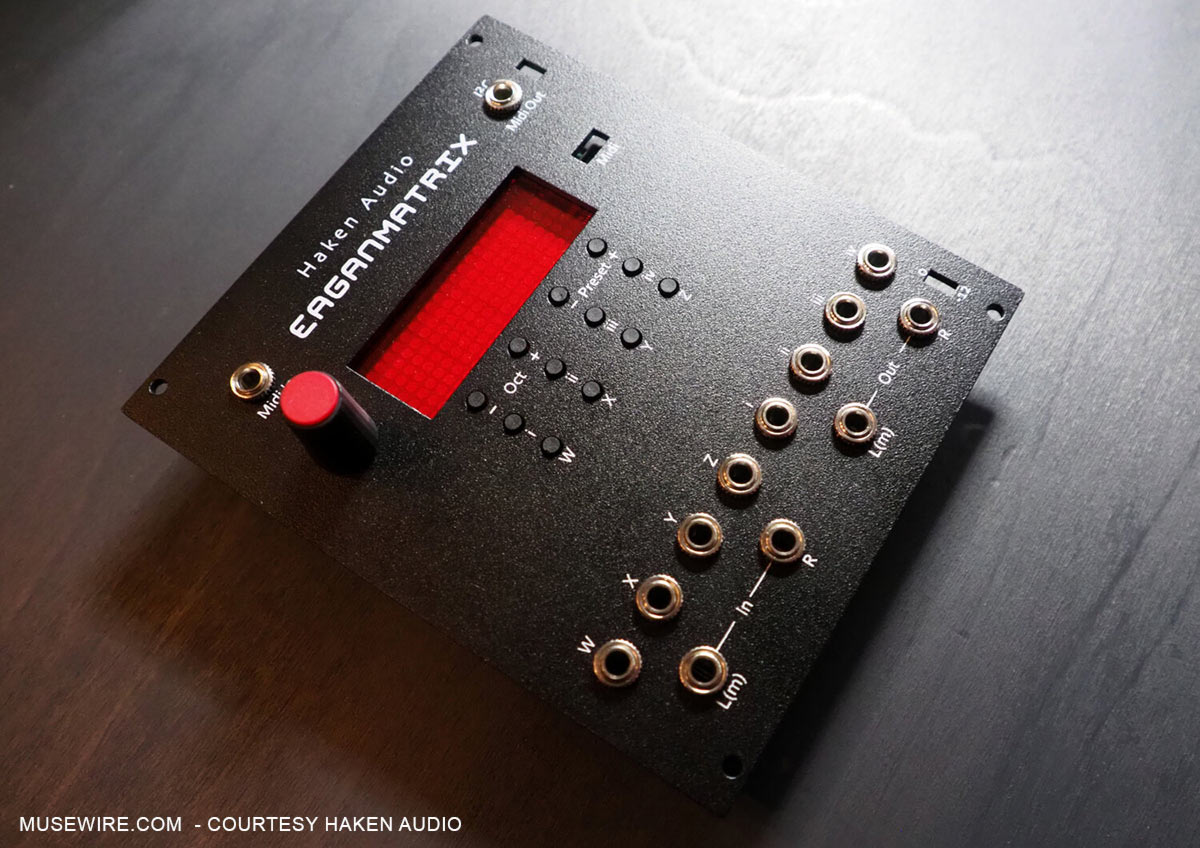 The current price is $799 for pre-order for the next batch (check the store on Haken Audio's website for availability).
POWER AND SIZE:
The EaganMatrix module requires +12V, +5V, ground and -12V from your Eurorack enclosure.
A standard 16-pin Eurorack power cable is included with purchase.
Current requirements: 25mA at +12V and -12V. 500mA max (190mA average) at +5V.
The processing power of the EaganMatrix module is 2x, the same as the ContinuuMini.
The dimensions of the EaganMatrix module are 22 HP and 3 cm deep. LEARN MORE:
Learn more about the module at: https://www.hakenaudio.com/eaganmatrix-module
Learn more about the EagenMatrix engine here: https://www.hakenaudio.com/sound-engine
###
This original news post first appeared on MUSEWIRE.com – Copr. © by Christopher Laird Simmons – all rights reserved.