Closure of the last music store | The Independent Green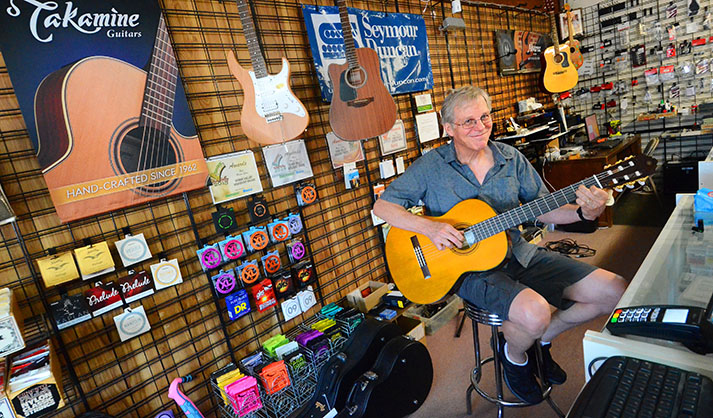 COTTONWOOD – The last music store in town closes its doors the second week of August.
Ted and Susie Karstadt retire after 17 years and close Verde Valley Music on State Route 89A.
Karstadt put up a for sale sign in front of the business last week, which was a "dream come true" for him.
Not only was the business a must-have retail store for local musicians, but it also had five small classrooms where "people, families, and kids would have a place to learn and enjoy their love of music." , did he declare.
Unfortunately, like video rental businesses and small bookstores, mom-and-pop music stores are struggling to compete in the age of the internet, box stores and the pandemic.
Karstadt said his goal was to give lessons to the community, as well as run the retail store, which sold instruments, music books and accessories. There was another music store in Cottonwood when it opened.
"We needed the music store to help support the lesson schedule," said Karstadt, who has taught guitar lessons himself. He asked other musicians in the community to give lessons in guitar, piano, flute, trumpet, clarinet, saxophone, bass and voice.
Some of these lessons will continue through private arrangements, he stressed.
Many of his longtime customers have heard that he is closing and are simply coming to buy "something" at the store, which is selling off its inventory.
Susie wanted to thank the community and Ted agreed that "the community has been awesome," he said.
The store was "lessons, service and retail," Susie said.
"We have enjoyed the musical growth of many students. Since 2006," Karstadt said. "Verde Valley Music had 1,250 students, 2,800 lessons and memorable recitals that took place twice a year."
One such former student, local musician Dan Engler, said he took lessons at the store for several years.
"Verde Valley Discount Music has been the backbone of our region's music community," said Engler. "Ted and Susie could always be counted on to provide the best technical support to professional musicians. More importantly, they were a source of support and encouragement for beginners.
"My introduction to Ted and Susie started when my wife bought me a guitar and a month of lessons for my 51st birthday," he said. This month of classes at Verde Valley Discount Music continued.
"What I appreciate most about the education I received at Verde Valley Discount Music, and my teacher, Allen James, is the emphasis on 'music theory'. It's one thing to learn someone to play an instrument.
"Thanks to the folks at Verde Valley Discount Music, I learned music the right way," Engler added.
Karstadt would like to thank all of its many employees and Becky Bennett, Emily Meyer, Brittany Smith, Jonathan Levingston, Kathryn LaTorracca and Lee Zimmer for their professional musical leadership and instruction, Tara Ortiz and Ken Mikell with retail and Barbara Swartwout for his support.
Contact Vyto Starinskas at [email protected]